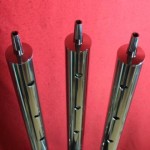 Stainless Steel Posts
Length: 1000 mm
Diameter: 2 (50.8mm)
Thickness: 1.6mm
Grade: 316
Finish: Mirror
Holes: 7 Holes Ø16 at 127mm centres
Base: Round flange and cover
Top: Post Reducer
                                          Price: $ 99 +GST ea.
We have end, middle and corner posts
All posts are professionally drilled on milling machine, Tig welded, pickled and polished.
We can also drill posts for staircases.
Stainless Steel Tube
Finish: Mirror
Grade: 316
OD: 50.8mm (2″)
Wall: 1.6mm Price: Per Metre
$21.35 +GST
Finish: 600 grit
Grade: 316
OD: 15.9
Wall: 1.6mm Price: Per Metre
$6.25 +GST
Stainless Steel Structural Columns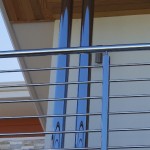 Stainless Structural Columns Mirror or Satin Finish
Different diameters and thickness
Send us some engineers drawings so we can give you accurate price.