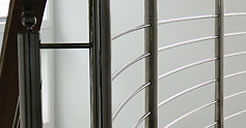 Stainless Steel Balustrades
Customised balustrade solutions for stairs and balcony areas.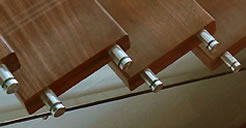 Glass Solutions
A range of glass fittings to provide frameless glass solutions for balconies, decks, staircases, pool fences and more.
---
Our Commitment to you
Highest quality.
All we use is  Grade '316′ offers the best corrosion resistance among standard stainless steel and is often referred to as "marine grade". 316 stainless is made up of at least 16% chromium and 10% nickel. 2% molybdenum is also added to 316 stainless to increase its corrosion resistance. Grade 316 is most suited to outdoor and marine applications.
Competitive pricing.
Our extensive range of solutions includes stainless steel and wrought iron balustrades, stainless steel structural columns, frameless + semi-frameless glass systems, pool fence solutions, aluminum solutions, DIY kits, domestic + commercial projects, stainless steel gates and screens, custom-made stainless steel furniture, furniture made of brass, feature door handles, feature house number plates and letterboxes.